How to Apply Makeup Without Makeup Brushes
|
Makeup makes us feel better (sometimes even confident and more sure of ourselves!).  This is probably why many of us don't imagine their life without makeup. We even carry a small makeup bag around with us so we can reapply whenever we feel there's a need to.  What if somehow (God knows how) you've forgotten your makeup brushes at home? You think it's impossible to apply makeup without a brush, don't you? Well, watch us (or read us!) prove you wrong.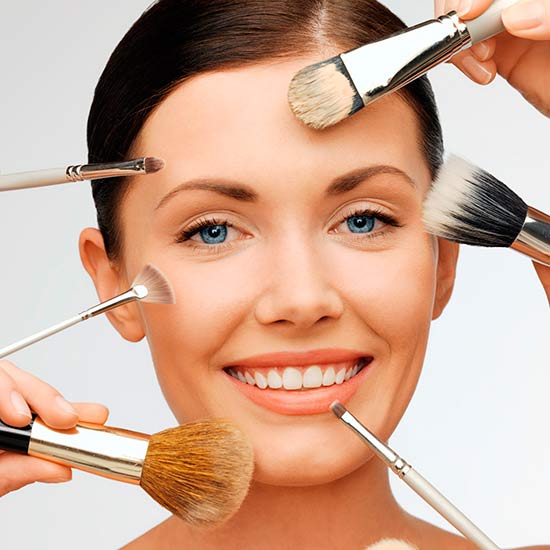 Foundation Without a Brush
Foundation can hide all the flaws on your face that you want to be hidden. In the absence of brushes, foundation can be applied with the help of a wedge sponge. Feel free to use wedge sponge even with liquid and whipped foundation. If there's no way for you to find a wedge sponge either, you can always use your (clean!) fingers!
Blush Without a Brush
Now this one may seem a little tricky. But here too sponge comes to our aid. Dip the makeup sponge into the blush and apply it directly to the apples of your cheeks.
Eyeshadow Without a Brush
Applying eyeshadow without a brush? No problem, use your fingers! First of all, you should make sure that your hands are perfectly clean (after all, it's your eyes we're dealing with). Using your fingers, apply the eyeshadow to your lids. To get a symmetrical eye makeup, use a cello tape. Remove it when you are all done, and apply your favorite eyeliner (you sure don't need a brush for this one!).
Removing Makeup Mistakes
According to makeup artists, Q-tips are the best for removing makeup mistakes (make sure to carry at least some in your makeup bag). If you're using Q-tips on your lips, dampen it a little to avoid cotton fibers on your lips.
Not so difficult, is it? Always remember that you can always find a way out when it comes to makeup. Just a little bit of imagination and you are safe!
See also: Common Eyeliner Mistakes We All Make
How to Find the Best Mascara for You