Best Makeup Tips for Your Engagement Day
|
It's quite different when you are going to take photos on your engagement day. Your makeup should greatly differ from your daily one. Take into account the best makeup tips for your engagement day.
Fix the Foundation
On your engagement day, you would like to take photos in various poses, such as leaning to your sweetie's shoulder or your face may touch his suit. It's very essential not to leave any foundation on his outfit. The famous makeup artists advise to go for a setting spray, which prevents your foundation from transferring and provides you with a fresh makeup. This makeup tip is very essential while taking photos on your engagement day.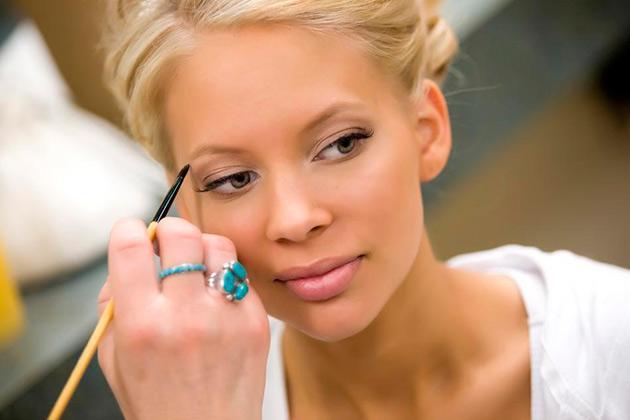 Kissable Lips
Probably, you would like to kiss your sweetie while taking a photo. It's not pleasant for him to have your lipstick on his lips or you don't want your lipstick to disappear from your lips. Thus, you had better look for a lipstick, which lasts long. You may also go for a lip tint, as your lips will look natural. The same is with the lip stain. Thus, opt for any of them and kiss your guy as much as you like.
Create an Outstanding Feature
This is one of the best makeup tips for your engagement day. To achieve a natural look, you should highlight one of your features. If you want to create a smoky eye makeup, you should apply a neutral lipstick. In case you desire to wear a bold lipstick, you should go for a classic eye makeup. Makeup artists assure that having one highlighted feature, you will have a perfect photo.
Apply Makeup on Your Sweetie
Most men refuse applying makeup on their faces. However, a little concealer will be great, if you want to hide eye circles and other skin imperfections, such as blemishes. You had better have blotting papers in your bag, if your sweetie sweats a lot. The result will be satisfying.
Express Your Inner Joy
This is one of the best makeup tips, you should take into account on your wedding day.  To have a shiny look in photos, you should express your inner joy even with little makeup.
Thus, the posted above makeup tips will help you look amazing in your engagement photos. 
See also: Winter Wedding Beauty Tips
Gorgeous Celebrity Braided Hairstyles to Wear on Your Wedding Day
Celebrity Inspired Wedding Makeup Ideas for a Memorable Look