Easy-Cat Eye Makeup Tutorials for Every Eye Shape
|
Cat-eye makeup is one of those makeup techniques, which will look good on almost anyone, of course when it's done professionally. This, however, doesn't mean you can't get the catchy cat-eye yourself.
Cat-eye makeup tips will differ depending on your eye shape. We will distinguish between 4 main types of eye shapes. If you know what your eye shape is, then follow us and the secret of getting perfect cat-eye will be yours.
Cat-Eye Makeup Tips for Almond-Shaped Eyes
The eyes of Mila Kunis, Kim Kardashian, Rihanna, Leighton Meester, Kate Winslet, Scarlett Johanson, Jessica Alba…they are all almond-shaped! With almond-shaped eyes start off by applying  brown eye-shadow to the crease and upper lash line, then apply light beige-colored shadow all over the lid . The contrast between brown and beige makes cat-eye more expressive. To have equal tales, dot the spot where the cat-eye must end. The dot should be just below the tip of your eyebrow. Connect the dot to the outer corner of your lashline. Draw an even, straight line across the lashline. Apply mascara on both upper and lower lashes.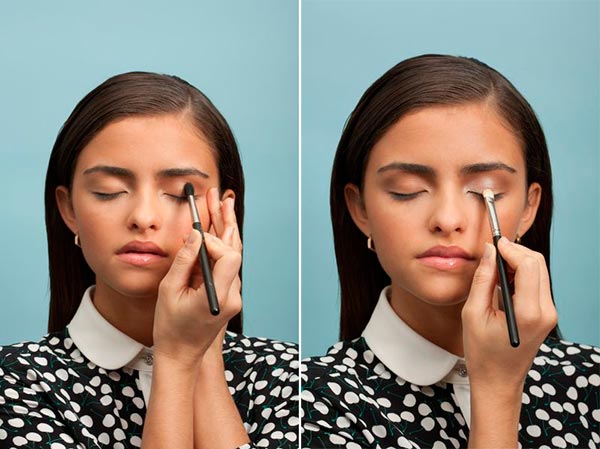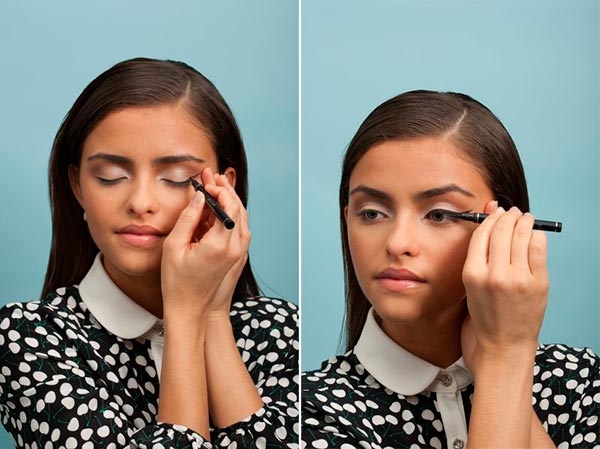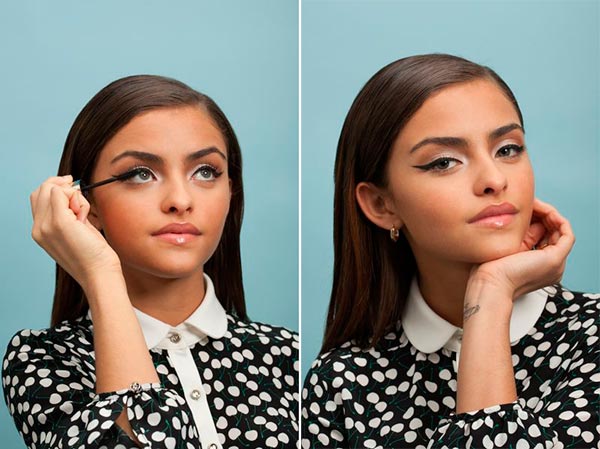 Cat-Eye Makeup Tips for Hooded Eyes
Blake Lively, Hayden Panettiere and Jennifer Lawrence have hooded eyes. Our main concern here is to open up the eyes to get a ideal cat-eye. If the eyes are hooded, there's no point in emphasizing the top. Our main focus should be on the corners of eyes. Start from the inner corner of your eyes drawing a thin line and thickening it as the line progresses. Continue drawing the line past the outer corner of the eye. Don't curve it, we want your eyes appear bigger.  Take and angled brush and apply a little black shadow to the outer corner of your lower lashline. Add white shimmer to the inner corners of your eyes. This will make your eyes look more elongated. For a better result, you may also curl your eyelashes and apply some mascara.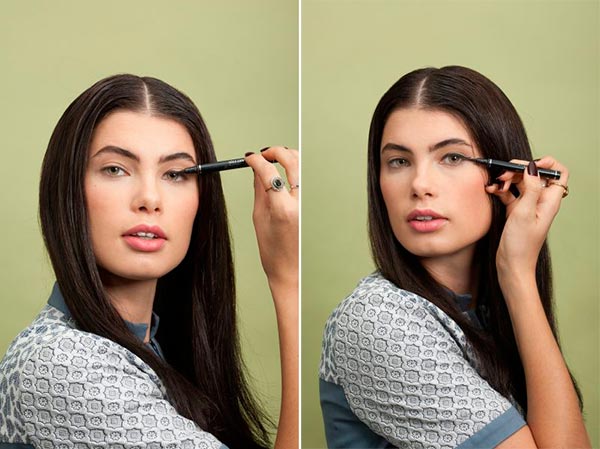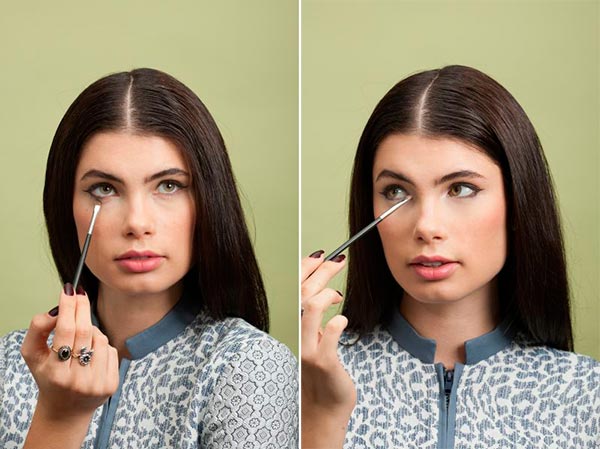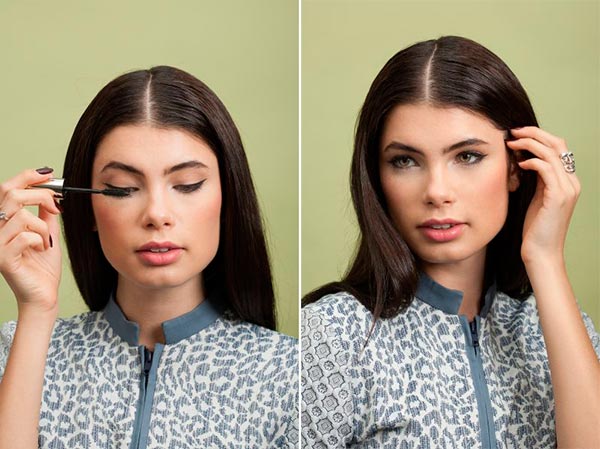 Cat-Eye Makeup Tips for Monolid Eyes
Monolid eyes are most common in Asian ethnicities. Cat-eye looks quite interesting and impressive on monolid eyes. Start from the eye's outer corner and draw a winged small line as if you were extending the lower lashline. By drawing small dots on your eyelid, mark where you want the winged tip to be. Connect the dots, color the line in. When your eyes are closed, you may feel there's too much black on them. But very thin eyeliner would not be visible when you opened your eyes.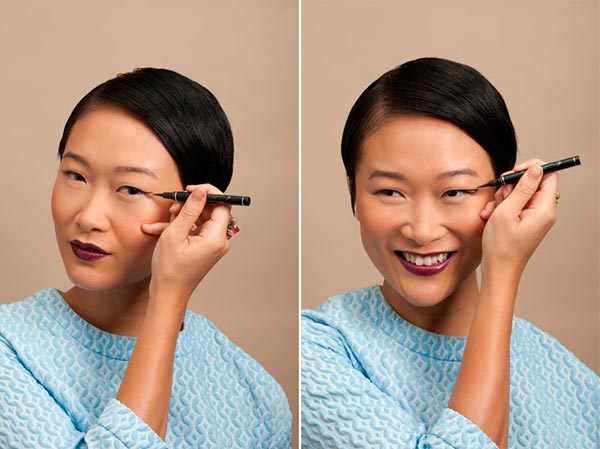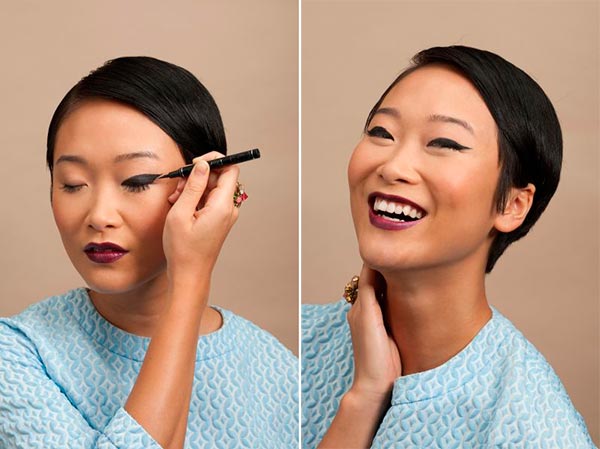 Cat-Eye Makeup Tips for Round Eyes
Zoe Deschanel's, Penelope Cruz's, Katy Perry's and Demi Lovato's eyes can be described as round. Here we first want to elongate the eyes. Using a brown shadow draw a sideways "V" from your crease to your upper lashline. Apply beige shadow to your eyelids and brown shadow across your lower lashline. The cat-eye is already visible. From the inner corner of your eye, draw a thin line. Gradually make the line thicker. Following the brown shadow, let the line meet the winged tip.
If you are a makeup newbie, we will not lie and tell you it's going to be easy. "Practice makes it perfect". This saying has never been truer. Practice, practice, practice!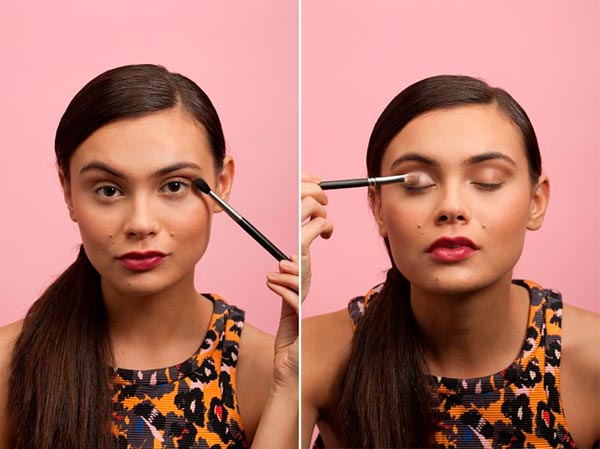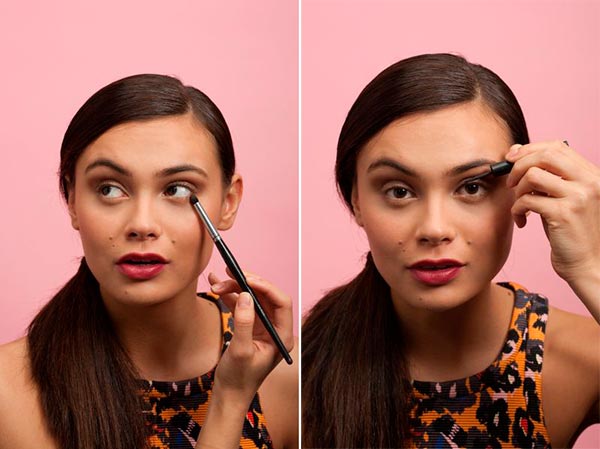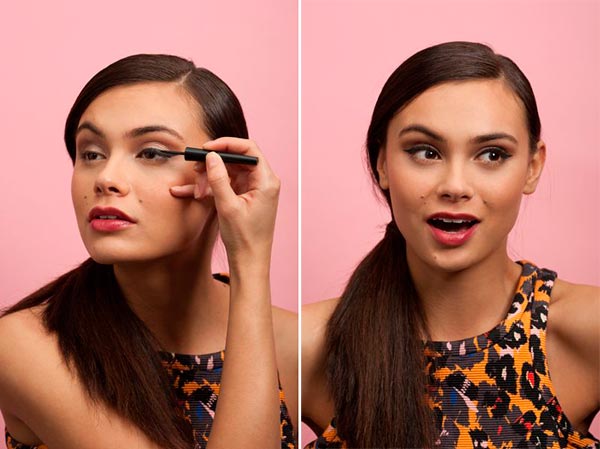 Images: refinery29.com
See also: How to Wear Glitter Eye Makeup