Best Nail Colors for Fall
|
As we slowly say goodbye to the heat of summer, we're going to be saying goodbye to the summer trends as well. While nail trends tended toward the colorful and bright for spring and summer this year, when it comes to solid color for fall things are going in a much different direction. Darker and more subdued are the looks to aim for as the seasons change, and we've got the scoop on the most popular!
Jewel Tones
You don't have to say goodbye to color altogether! Ditch the popular neons and pastels of the summer and find some sexy jewel tones. I love jewel tones, especially for nails. They add a little hint of drama to any outfit, and the dark shimmer adds a little glamour too. I always feel like a mysterious, elegant femme fatale worthy of any Bond film when I'm sporting some jewel tones.
Nudes
It probably feels like nudes are in every year, but there's a good reason for that! You can match a nude nail with any outfit, and it always looks ultra chic. Nude colors are neutral and simple, adding an effortless, natural quality to your get-up. I love it when a nude nail is matched with simple, barely-there makeup and a high-fashion inspired outfit. This way you're really letting the clothes speak for themselves. Nudes are perfect for polishing up an outfit (pun intended) while letting other aspects shine just a little brighter than your nails.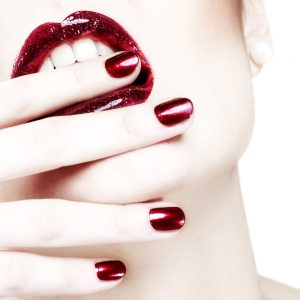 Reds
Red is always a classic when it comes to nails, but this season it will be all the rage. Nothing brings more drama than matching some red nails with some red lips, and that's a combo that is sure to make you stand out in a crowd. Dark, light, pale, or bright, any shade in this hue will be a great way to take your outfit to the next level.
Greys
Greys of all kinds are going to popping up all over the place during fall and winter 2015, and nails are no exception. If you're looking for a subtle hue that goes with everything, but have already used up all your nudes, opt for grey instead. It has all the same benefits of being a neutral, but is just a little bit edgier than a nude.