Celebrities and Their Amazing Stunt Doubles
|
We usually can't help but stare in awe at celebrities as they perform death-defying stunts in their movies and music videos. However, we also know that we are in awe at the wrong people because there is no way those celebrities are doing the stunts themselves. Below are some celebrities with their amazing stunt doubles!
Jennifer Lopez
Do you remember the Follow the Leader music video starring Jennifer Lopez? Because we do! She looked really good in that video which was why we were so surprised to find out that her stunt double was a man! The stuntman was named Daniel Arroyo and had to look exactly like J. Lo. This meant zipping into a black jacket, skin-tight leggings and braiding his hair like J.Lo.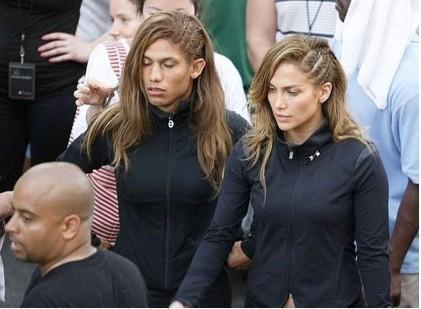 Uma Thurman
Do you remember just how amazing Uma Thurman was in Kill Bill? Well, she is an amazing actress; however, the real reason her action stunts were so amazing was all thanks to stunt woman Zoe E. Bell. Zoe started taekwondo when she was just a young girl, and competed in gymnastics too. She had her very first stunt woman role in a soap opera in New Zealand and from there she landed other big budget roles in movies like Catwoman, Grindouse, and Inglorious Basterds.
Nicole Kidman
Celebrities do not just use stunt doubles for high-action scenes, you know. We were surprised to find out that for the 2011 movie Just Go With It starring Nicole Kidman, she actually had a stunt double for her dancing scenes. The dancing diva was a woman named Alicia Vela- Bailey who has also worked as a dancing stunt double in Zookeeper. Dancing isn't all she can do because Alicia Vela-Bailey has also worked as a stunt double in movies like I Am Number Four, Ultraviolet, Avatar, and Alice in Wonderland.
These stunt doubles are the unsung heroes – after all, they do amazing work and they really go the distance! It's astounding what they do for their craft and we think it is about time they get some attention from fans because they well and truly deserve the adulation, too!