NYFW: Nicole Miller Fall 2014 Collection
|
"Shootin' at the walls of heartache, bang, bang, I am the warrior, yes I am the warrior"!  There was probably no better song than Scandal's "Warrior" to close the Nicole Miller fall 2014 collection, which presented a group of female heroes confidently walking down the catwalk. The collection may have come as a surprise to some of us, because we feel that just some months ago we were enjoying Nicole Miller Bridal fall 2014, a very girly, feminine collection. The wild, confident, independent looks of the models in the new Nicole Miller fall 2014 collection took us back into the past, we even imagined ourselves as being a part of Muromachi era and seeing Princess Mononoke, or being transferred to the 1st century AD and seeing Boudicca, queen of the Celtic tribe that rose up against the Romans, with our own eyes.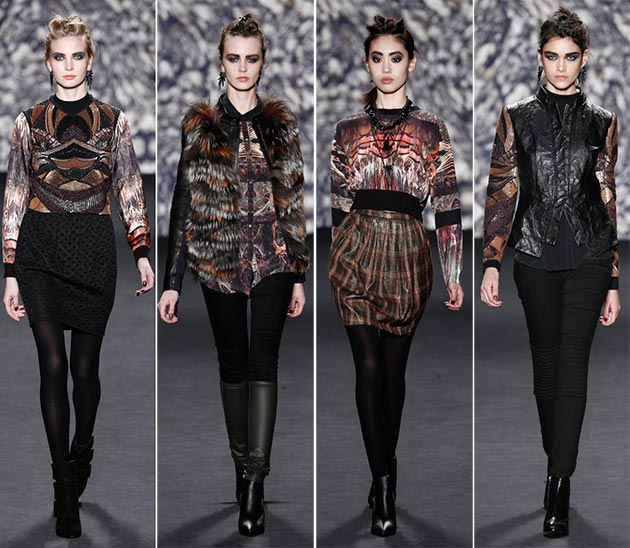 As the first model appeared on the Nicole Miller fall 2014 collection runway, the theme of the show was instantly clear. Clad in dark colored long-sleeved blouses, neoprene tops and skirts, feathery and fur vests, Miller's models showed how real fighters and warriors must look like. Add to that leather jackets and skinny leather pants, black bags, belts and even high heeled boots with golden spikes and you can check the tough girl look box. This, however, didn't stop the collection from preserving some elements of femininity in forms of satin and strapless dresses, simple black skirts and high heeled ankle boots. A separate attention had been given to accessories, particularly to necklaces and earrings. Big black chunky necklaces with beads and feathers, simple black chains with all sorts of pendants and matching earrings are what made the looks more complete and expressive.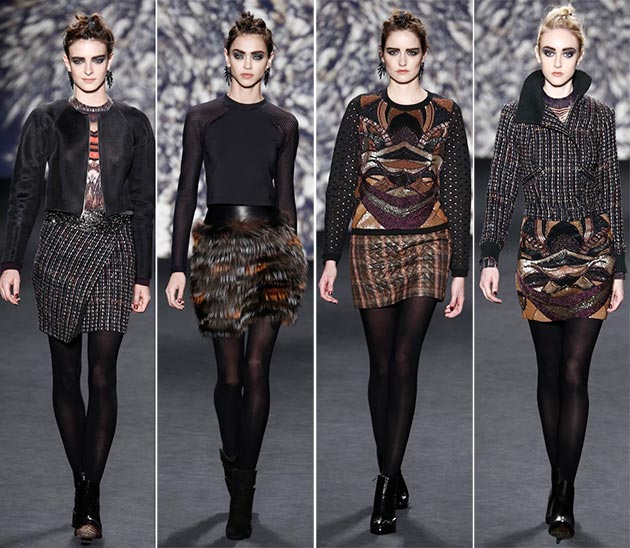 The makeup of the models had been done by James Kaliardos , the lead makeup artist for MAC. The famous smoky look was given to the eyes, Mocha Latte coat to the lips. Kevin Ryan, the person responsible for the hair of the models, had opted for pulled back hair with occasional leather stripes woven through it.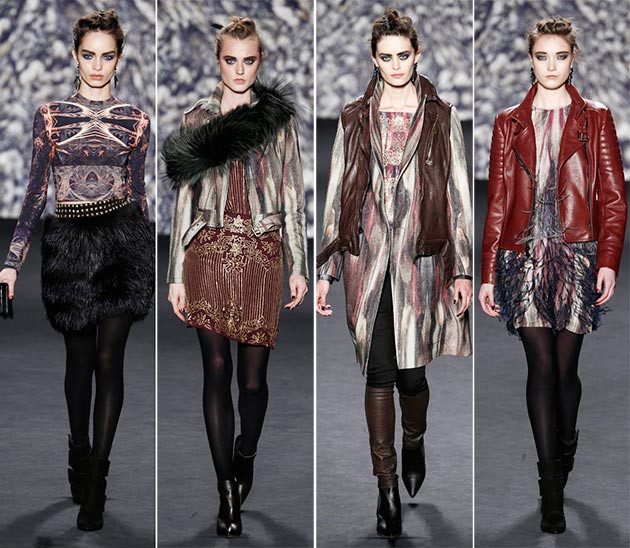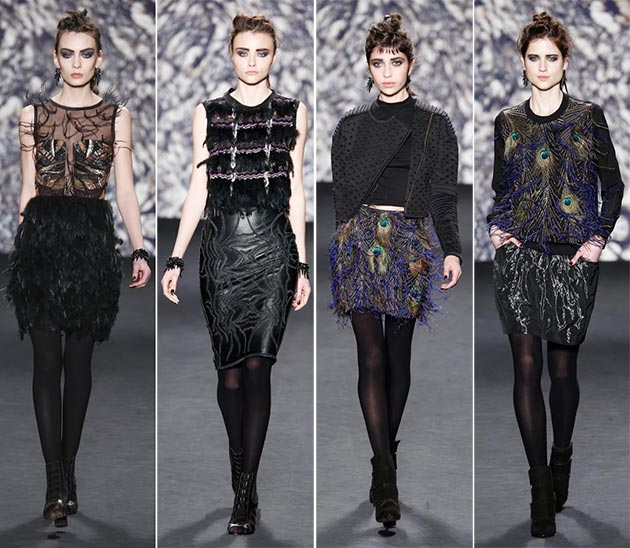 Images: Fashionisers.com
See also: NYFW: Coach Fall 2014 Collection
NYFW: Jason Wu Fall 2014 Collection