Bralettes For All!
|
Though bralettes have already been around for quite a while, after a summer with these cute pseudo lingerie pieces everywhere, it looks like this trend shows no signs of slowing down! They're perfect for the last weeks of this hot summer sun, and are good for a night out year round (so long as you cover up with a coat en route to your destination!), so even though summer is winding down, this won't be the last you see of them.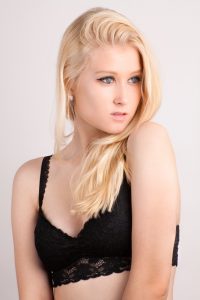 I love the bralette look. It's super feminine and cute, not to mention sexy. I love lingerie, and I've always thought the only bad thing about lingerie is that you don't get to show it off to everyone (unless you're feeling like a bit of an exhibitionist), so I'm very into the idea of turning lingerie into outer wear. I love the huge variety available too, with some covering just the chest, and some coming down even to your navel. Mesh, lace, or even cotton, there's no such thing as a bad bralette in my book!
You can't go wrong with a beautiful lacy bralette, but I have to say my favorite style within this trend is the bralettes with the structured, strappy backs. Anything that shows a bit of back ups your hot factor by a ton of levels.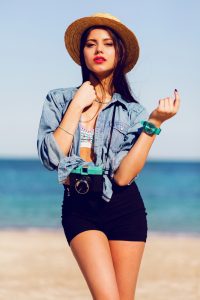 Get super trendy by pairing a cute bralette and a midi or maxi skirt and some cute sneakers, mixing girly femininity with a casual coolness. As it starts to get a bit cooler, layer on a cute kimono or denim jacket. A bralette on top will go with pretty much anything on the bottom—skirt, shorts, pants, and anything in between! And if you're not feeling like baring your belly, pair a bralette with some high-waisted pants, or wear an over-sized tank with loose, open sides for a coy peek-a-boo look.
So indulge in your girly side and grab yourself some bralettes!