Easy and Delicious Snacks to Take with You Everywhere
|
Sometimes us busy gals need a little pick-me-up during the day. While fast food joints tempt us to succumb to their greasy offerings, too many trips to a restaurant can not only put a strain on our wallets, but also our waistlines. That's why you should plan ahead and make these simple, quick snacks to take with you wherever you go!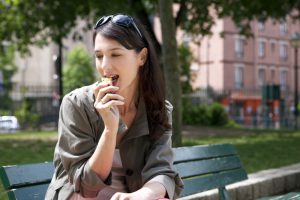 Puppy Chow
Save this snack for a cheat day, because though it's delicious, it is not for the calorie or sugar-conscious person. It's so simple to make and is melt-wateringly delicious. The key ingredient for puppy chow is Chex cereal. Once you've got your cereal, melt 1 cup of semi-sweet chocolate chips over low heat and add ½ peanut butter, mixing until it's smooth. Once you've got it all nice and smooth, remove from heat and add 9 cups of Chex, making sure all the pieces get nicely coated. For your final step, pour 1 ½ cups of icing sugar into a large plastic or paper bag and add your coated cereal, shaking the bag until all the cereal is coated. All together this recipe only takes about 5 or 10 minutes and the results are absolutely delicious!
Peanut Butter Graham Cracker Sandwiches
Much more exciting than your typical PB& J sandwich or even cheese and crackers, this is a nice, sweet alternative for when you're on the go. Grab some graham crackers and break them into halves and then slather on some peanut butter. To make sure they don't break apart, put them in a small Tupperware container and take them out when you're ready for your snack.
Trail Mix
Save some money by making trail mix at home! There are so many variations of trail mix out there that you can really just focus on mixing all of your favorite things together! Choose a couple of your favorite nuts, such as almonds, cashews, pistachios, or peanuts, maybe add some seeds like pumpkin or sunflower, and add in something sweet, like a dried fruit (cherry, cranberry, or pineapple are my favorites), a handful of chocolate chips, or both! Adding in some of your favorite cereal is a great idea too, adding in some Cheerios or Corn flakes for some texture. Put a handful in a Ziploc bag before you leave the house and you've got yourself a great on-the-go snack!